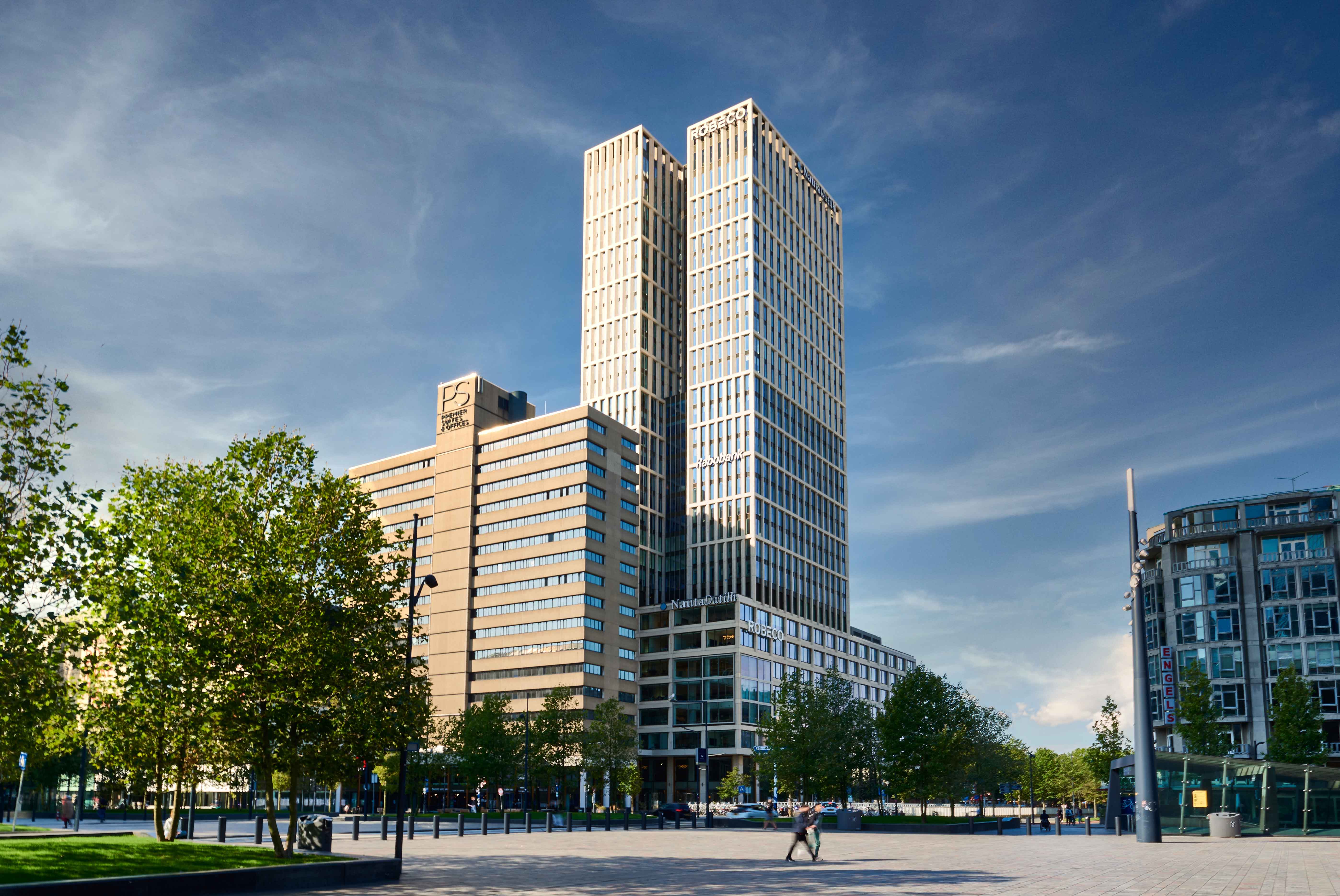 News
Full year results 2020 ICT Group
Strong performance with EBITDA up 16%; impact Covid-19 on full year 2020 limited
Highlights FY 2020
Full year revenue was up 3% at € 160.0 million, organically flat
EBITDA increased 16% to € 19.2 million, EBITDA margin improved to 12.0% (2019: 10.6%)
Net profit increased 63% to € 4.4 million
Proposed dividend of € 0.40 per share for the year 2020
Covid-19 impact overall limited; backed by sustained robust performance of project business and strong growth in nearshoring
Financing agreement extended to 2024
Highlights Q4 2020
Revenue in Q4 came in at € 40.3 million (Q4 2019: € 39.8 million)
EBITDA increased 27% to € 5.7 million in Q4 2020 (Q4 2019 4.5 million)
Acquisition of Yellowstar, active in supply chain software, announced
Recommended all-cash public offer
Today ICT Group and a Consortium led by NPM Capital have reached conditional agreement on a recommended all-cash public offer for all Shares in ICT Group at an offer price of EUR 14.50 (cum dividend) per share. For more information we refer to the press release published this morning.
Jos Blejie, CEO of ICT Group N.V.: "The onset of Covid-19 turned 2020 into a truly remarkable year. Although we have had to operate in an unstable environment, we can conclude that the overall impact of Covid-19 on our business was limited in 2020. Thanks to the spread of our activities and the quick and decisive actions taken, and most importantly thanks to the strong commitment and flexibility of our professionals and the loyalty of our clients, we have shown resilience in this crisis. Our productivity levels started rising again from the start of summer and are close to pre-Covid levels since the third quarter. Our project business continued to perform well in 2020 and our nearshoring activities were able to capture strong growth, being greatly positioned to benefit from the increased outsourcing of projects. We continued to invest both in the organisation and our people in the past year. The further development of our industry-specific software propositions was a key spearhead this past year. As from January 2021, we have bundled these software propositions in a new segment, to further fuel focus and management attention, enabling these activities to thrive." Although the uncertainties related to Covid-19 continue in 2021, I am positive about the future. We remain committed to continue on our strategic roadmap. As demonstrated by our latest acquisition Yellowstar, we are diligently building upon our strategic strengths and I am confident that we are well underway to deliver on our mid-term objectives."
Strategy update
Industry specific (proprietary) software solutions As per 1 January 2021, ICT has bundled its offerings of proprietary industry specific software solutions in one cluster. Industry specific solutions enable our customers to benefit from the advantages of digital transformation, geared at streamlining and integrating critical processes and powering business growth. These solutions have shown solid growth in the past years and they greatly contribute to ICT's recurring revenue. Bundling them in this new cluster increases the company's focus on the high growth industries they operate in. With these software solutions, ICT is anticipating multiple trends. This includes the emergence of low coding with MOTAR, the growing need for integrated mobility services with TURNN, integrating data and systems in Healthcare and offering a plug-and-play cloud platform that connects people, devices and data with OrangeNXT. Yellowstar, acquired early January 2021, has also been added to this cluster. Buy and build In July ICT acquired Esprit Management & IT Services. Esprit has a strong and consistent track record within the industrial automation sector and embedded software development in the Netherlands. In December 2020, ICT announced the acquisition of Yellowstar, a Dutch web-based solutions provider, offering real-time insight, access and control in supply chains. The company is active in the same geographical markets as ICT and strengthens ICT's position in the industrial, trade, retail and logistics markets. The transaction was completed in the beginning of January 2021. Platforms for organic growth Kodar and Up2 Technology, both acquired at the end of 2019, were successfully integrated into ICT's nearshoring activities in Bulgaria in 2020. The integration process was accelerated by strong growth in the operations in Bulgaria, fuelled by the increased outsourcing of projects. ICT companies NedMobiel and Proficium were merged into INNOCY, combining the strengths of both technical service providers and adding new services such as data management and infra development As is reflected in its pay-off 'life cycle masters', INNOCY offers support during the full life cycle of infrastructure projects. From selecting the best infra solution in the very first stage through asset management to the demolition or reuse of assets, including bridges, tunnels and locks.
Focus in 2021
Geographical expansion is an important driver in ICT's growth strategy. The primary focus for geographical expansion is on areas where ICT is already active, including Sweden and Germany. We expect the strong growth in demand for nearshoring to continue in 2021 and will therefore also further expand and strengthen our capacity in Bulgaria, in the current locations (Sofia and Plovdiv). Next to these existing locations we have opened as of January 2021 a new office in Burgas which will contribute to the organic growth ambitions. Another focus area for 2021 is further growing our industry-specific software business. Our proprietary software solutions are combined in one segment to increase focus and attention on this. ICT will also pursue add-on acquisitions to further strengthen its portfolio in this field. Personnel At 31 December 2020 ICT Group employed 1,438 FTEs (1,492 employees), compared to 1,413 FTEs (1,468 employees) at year-end 2019. The recent acquisitions and ongoing recruitment efforts contributed to this increase.
Notes to the results
Performance ICT Group In 2020 ICT Group's revenue came in at € 160.0 million, a 3% increase compared to € 155.5 million reported in 2019. Revenue added value increased 4% compared to 2019. Organically, excluding acquisitions and divestments, revenue was flat. Personnel costs increased to € 95.7 million (2019: € 91.5 million), in line with the increase in FTE's and salary increases. Other operating expenses decreased from € 20.9 million in 2019 to € 19.7 million in full year 2020. In light of the Covid-19 crisis ICT took necessary measures to cut and control costs, combined with a strong focus on cash management. These measures started to have an effect as of June. The costs related to strategic initiatives in FY 2020 amounted to € 1.0 million compared to € 0.7 million in 2019. These costs are mainly related to the proposed transaction as announced today. EBITDA for the full year 2020 increased 16% to € 19.2 million (2019: € 16.5 million). The EBITDA margin increased from 10.6% to 12.0%.
Engineering R&D
In this segment, ICT is active in the R&D of the industrial sectors Automotive, High Tech and Machine Building. The impact of Covid-19 on the High Tech activities was very limited and they showed a stable development. In the second half of the year the Automotive activities showed a good performance, after a limited impact of Covid-19 in the first half of the year. The customers of the Machine & Systems unit have been significantly impacted by the crisis which was noticeable in the unit's lower productivity than usual.
Industrial Automation
ICT's key units in this segment are Logistics & Transport, Industry and Outsourced services. The Covid-19 crisis was noticeable in this segment as it serves customers that have been impacted by the crisis, in particular in the first wave of the crisis in the Logistics & Transport unit and in the second wave in the Industry units. Overall demand increased again as from September onwards but this was not sufficient to fully compensate the impact in the first half of the year.
Infra & Mobility
In the public domain ICT focuses on services around capital assets in the area of Water, Energy, Road and Rail infrastructure as well as Mobility. Projects in the public domain generally continued in the past year. Although revenue at InTraffic was impacted due to the lockdown measures, margins improved in 2020. ICT's Mobility as a Service activities TURNN won a number of contracts after completing a number of successful pilots in the first half of the year.
Healthcare Technology
The performance of the Healthcare unit is affected by Covid-19. In the second half of 2020 the healthcare unit was rationalised and the consulting services were discontinued. The activities focused on the sale of the foetal care products continued and showed a positive performance, especially in the remote tooling Sense4Baby.
Bulgaria
ICT's nearshoring entity Strypes reported substantial organic growth of 13% and a strong EBITDA margin increase. Our nearshoring activities were able to benefit from more projects being executed offsite. Moreover, better cooperation between the different entities within the group further increased the use of our nearshoring capabilities. In the past year, with the expansion of capacity in Bulgaria, ICT was able to support this increase in demand. Sweden The integration of Additude, acquired in February 2019, was completed in the first half of the year. The Swedish activities, mostly engineering consulting services, were impacted by Covid-19. Moreover, the crisis made it difficult to hire new people, which put pressure on margin recovery. Additude did see one of the largest contracts being prolonged.
Other
The segment 'Other' includes a number of small entities as well as the holding costs of the group. Improve, mainly engaged in trainings, was strongly impacted by Covid-19 in the past year. OrangeNXT and MOTAR are performing in line with plan, turning the start-up losses into profit in 2020. The growth pace however slowed down due to Covid-19. In 2020 ICT decided to close down the Belgium secondment business. Also due to the impact of Covid-19, the activities continued to be loss-making.
Other financial information
ICT has attributed a value to and is amortising several intangible assets, including order backlog, software and customer relations of its acquisitions. Amortisation in 2020 amounted to € 5.6 million (2019: € 5.4 million). Depreciation for 2020 amounted to € 6.9 million (2019: € 6.2 million). The result from associates improved to a small profit of € 0.2 million in 2020 from a loss of € 0.9 million in 2019. Financing expenses came in at € 0.9 million in 2020 (2019: € 1.1 million). In 2020 taxes came in at € 1.7 million compared with € 1.0 million in 2019. Reported net profit for 2020 came in at € 4.4 million (2019: € 2.7 million). The earnings per share came in at € 0.43 (2019: € 0.27). The number of outstanding ordinary shares increased to 9,697,106 compared to 9,565,010 as per year-end 2019.
Cash flow movement
In 2020, net operational cash flow increased considerably to € 19.7 million positive (2019: € 14.4 million positive), as a result of improved financial results and disciplined working capital management. The cash outflow on investment activities was € 4.5 million in 2020, significantly less than 2019 (outflow of € 17.6 million) as a result of lower M&A levels. The net cash position increased and amounted to € 13.1 million positive per 31 December 2020 (31 December 2019: € 5.8 million positive). This increase was the result of the positive effect of cash preserving measures including the resolution at the AGM not to declare a dividend and the extension of the redemption schedule of the company's loans, combined with the positive development of the operational cash flow.
Balance sheet structure
At the end of 2020, shareholders' equity stood at € 59.7 million (31 December 2019: € 54.5 million). The balance sheet total increased from € 124.4 million at year-end 2019 to € 131.0 million at 31 December 2020. Solvency (shareholders' equity/total assets) increased to 46% at year-end 2020 (44% at year-end 2019), reflecting a sound financial basis. In 2020 ICT extended its credit facilities by four years to 2024. The acquisition credit facility was increased from € 25 million to € 35 million, both the working capital credit facility (€ 12.5 million) and the guarantee facility (€ 2.5 million) are unchanged.
Dividend
ICT proposes a cash dividend of € 0.40 per share for the 2020 financial year (2019: no dividend). The proposed dividend is subject to the approval of the Annual General Meeting of Shareholders (AGM) to be held on 12 May 2021. For the calculation of the proposed dividend, the net profit realised is adjusted for the non-cash amortisation amounts. This results in an adjusted net profit for the full year 2020 of € 9.7 million. The proposed dividend of € 0.40 per share represents a pay-out ratio of 40% of adjusted net profit. The dividend in cash will be payable on 3 June 2021.
Outlook
ICT remains fully focused on executing its buy-and-build strategy; combining healthy organic growth with selective acquisition opportunities. Although we have managed to limit the impact of Covid-19 on our 2020 results, Covid-19 will continue to have an impact on our business environment going into 2021. As a result we assume Covid-19 to have a limited impact on our revenue and EBITDA in the first half of 2021. Due to the persisting economic uncertainty we refrain from giving an outlook for the full year 2021. Long term market perspectives remain attractive as we continue to believe in the ongoing digital transformation in all the markets we operate in. We are well underway and fully committed to deliver on our mid-term objective of increasing annual revenue to between € 200 and € 230 million, with a targeted EBITDA margin between 13% and 15%.
Annual Results of 2020
Click here to download the Annex of the Annual Results of 2020.
050321-FY-2020-PR-ICT-Group