News
H1 2020 results ICT Group
Sold first half 2020
Highlights H1 2020
Revenue in H1 2020 increased 2% to € 81.4 million (H1 2019: € 79.8 million), organically down 1.3%
EBITDA was stable at € 8.9 million (H1 2019: € 8.8 million)
COVID-19 impact was limited in Q1, effects were more visible in April and May and as of June productivity recovered
Precautionary measures taken to cut costs and to preserve cash already bear fruits as of June
Revised financing agreement in place, including additional € 10 million credit facility and extension of repayment schedule
Management expects revenue and EBITDA for the second half of 2020 to be in line with the first half of 2020
Key figures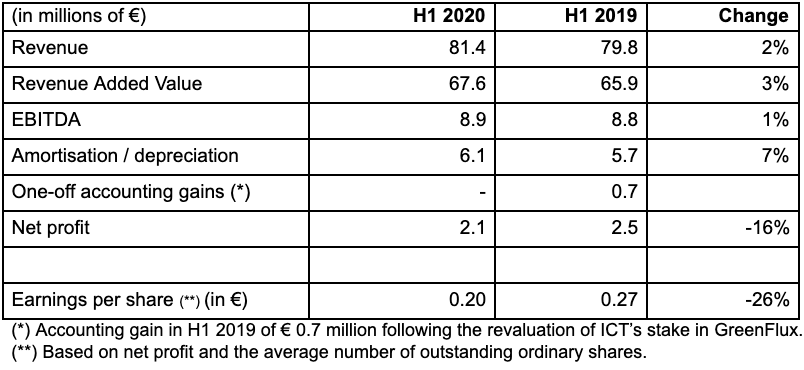 Jos Blejie, CEO of ICT Group N.V.:
"First and foremost I would like to thank our clients and employees for their flexibility and loyalty during these uncertain times. It shows that passion for technology unites and continues also when working from home. Pre-corona we saw productivity levels steadily improving; however the crisis impacted productivity in April and May. During June productivity levels increased again. Revenue slightly increased in the first half of 2020 compared to the same period last year. Particularly our secondment services in Sweden and the Netherlands were impacted by COVID-19. Our activities in Bulgaria showed a substantial organic growth. Overall our projects in high tech and public infrastructure continued at the same level as before COVID-19. We also saw the favourable development of our SAAS (software as a service) activities continue. Our diversified revenue portfolio offers strength and resilience.
As evidenced by the performance in June, we are well positioned to benefit quickly when business activities overall would return again to normal levels. Based on this positive trend we expect the results in the second half of the year to be in line with the first half of 2020. In addition we continue to strongly believe in the attractiveness of the long term market perspectives as the digital transformation will continue in all the markets we operate in."
COVID-19 measures
In light of the COVID-19 crisis ICT has taken necessary measures to cut and control costs, with a strong focus on cash management. These measures already have an effect as of June. ICT did not apply for governmental support (NOW – 1) in the Netherlands.
ICT concluded a revised financing agreement which includes an additional € 10 million government secured facility by Rabobank, to provide ICT with a back-up financing facility in case the crisis would further intensify. Furthermore, we agreed on a 6-month extension of the redemption schedule and a temporary increase of the net debt / EBITDA ratio to 3.5.
Personnel
At 30 June 2020, ICT Group employs 1,503 people (1,453 FTEs), around 2.4% higher than at year-end 2019.
Notes to the results
Performance ICT Group
ICT Group's revenue came in at € 81.4 million in the first half of 2020, a 2.0% increase compared to € 79.8 million reported in H1 2019. Organically, excluding acquisitions and divestments, revenue decreased by 1.3%.
Personnel costs increased to € 49.1 million (H1 2019: € 46.4 million), in line with the increase in FTE's and salary increases.
Other operating expenses decreased from € 10.6 million in H1 2019 to € 9.6 million in the first half of 2020, mainly as a result of the measures taken in light of the COVID-19 crisis. The costs related to strategic initiatives in H1 2020 amounted to € 0.1 million compared to € 0.5 million in H1 2019.
For the first six months of 2020 EBITDA was more or less stable at € 8.9 million, compared to € 8.8 million in the comparable period in 2019. The EBITDA margin decreased slightly to 10.9% (H1 2019: 11.1%).
Performance per segment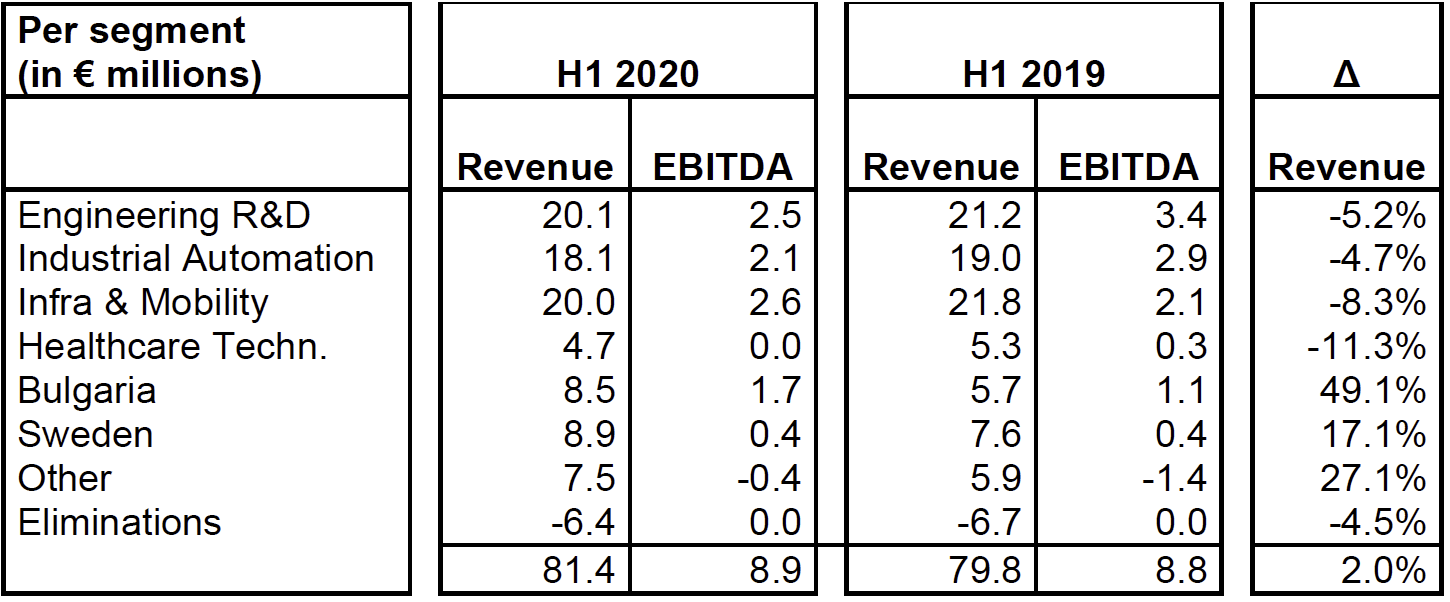 Engineering R&D
In this segment, ICT is active in the R&D of the industrial sectors Automotive, High Tech and Machine Building.
The HighTech activities were not impacted by COVID-19 and are performing in line with expectations. We do see an impact in the Automotive activities, but at the same time the sales funnel looks promising. The Machine & Systems unit, in particular the secondment business, was impacted significantly. Customers are scaling back development programmes, which is impacting productivity. We do however see customers starting up again.
Industrial Automation
In this segment Logistics & Transport, Industry and Outsourced services are the key markets for ICT.
This segment serves customers that have been heavily impacted by the crisis. Especially the activities in the units Logistics &Transport and Industry were significantly impacted in the second quarter. However we do see demand increasing again.
Infra & Mobility
In the public domain ICT focuses on services around capital assets in the area of Water, Energy, Road and Rail infrastructure as well as Mobility.
This segment experienced little impact of COVID-19. Many projects in the public domain are continuing, however we do see some pressure on secondment activities within the Water & Infra unit. The TURNN entity, ICT's Mobility as a Service activities, continued its positive development. After a number of successful pilots the first customer contracts, with both municipalities and large companies, were won and completed.
Healthcare Technology
The performance of the Healthcare unit is affected by COVID-19. This is mainly the case at the consultancy activities that were already operating at lower productivity levels before the crisis. The activities focused on the sale of the foetal care products did show a positive performance.
Bulgaria
ICT's nearshoring entity Strypes saw a further increase in customer demand, which translated into substantial organic growth. Our strategic decision to accelerate our nearshoring activities clearly paid off. Strypes is well positioned to capitalize upon the increasing demand for nearshoring activities. The integration of Kodar and Up2 is ongoing and progressing according to plan. EBITDA margins further increased during the first half of 2020.
Sweden
Additude, acquired in February 2019, is now fully integrated into ICT. Also here COVID-19 had an impact in the second quarter. On the other hand one of the largest contracts was recently prolonged. Hiring activities are under pressure from COVID-19, therefore recovery of the margins is lagging behind.
Other
The segment 'Other' includes a number of small entities as well as the holding costs of the group. As Improve is mainly engaged in trainings, the second quarter was heavily impacted by COVID-19. OrangeNXT is performing in line with plan although COVID-19 is putting some pressure on the growth rate. Nevertheless OrangeNXT progresses out of the start-up phase and realised a small profit. The results of the German and Belgian entities have been slightly positive.
Other financial information
ICT has attributed a value to and is amortising several intangible assets, including order backlog, software and customer relations of its acquisitions. Amortisation in the first half of 2020 amounted to € 2.6 million (H1 2019: € 2.6 million). Depreciation for the first half of 2020 amounted to € 3.5 million (H1 2019: € 3.1 million).
The result from associates amounted to a profit of € 0.4 million (H1 2019: € 0.3 million loss). The profit was mainly the result of a one-off gain realised at one of the associates.
Financing expenses came in at € 0.6 million in the first six months of 2020 (H1 2019: € 0.5 million).
Taxes in the first half of 2020 amounted to € 0.5 million compared with € 0.5 million in the first half of 2019.
Reported net profit for the first six months of 2020 came in at € 2.1 million (H1 2019: € 2.5 million). In the net profit for H1 2019 a one-off accounting gain of € 0.7 million was included as a result of the revaluation of ICT Group's stake in GreenFlux. The earnings per share came in at € 0.20 (H1 2019: € 0.27). The number of outstanding ordinary shares were stable compared to year-end 2019 and amounted to 9,565,010.
Cash flow movement
In the first half of the year, net operational cash flow increased significantly to € 6.8 million positive (H1 2019: € 3.8 million positive), partly due to postponement of tax payments. Also the net cash position increased and amounted to € 8.0 million positive per 30 June 2020 (31 December 2019: € 5.8 million positive). This increase was the result of the positive effect of cash preserving measures including the resolution at the AGM not to declare a dividend and the extension of the redemption schedule of the company's loans, combined with the positive development of the operational cash flow.
Balance sheet structure
At the end of the first half of 2020, shareholders' equity stood at € 56.6 million (31 December 2019: € 54.5 million). The balance sheet total increased from € 124.4 million at year-end 2019 to € 129.3 million at 30 June 2020. Solvency (shareholders' equity/total assets) was unchanged at 44% at the end of June 2020 (44% at year-end 2019), reflecting a sound financial basis.
Outlook
Long term market perspectives remain attractive as we continue to believe in the ongoing digital transformation in all the markets we operate in. We remain fully committed to deliver on our mid-term objective of increasing annual revenue to between € 200 and € 230 million, with a targeted EBITDA margin between 13% and 15%.
Barring unforeseen circumstances, in particular in relation to COVID-19, management expects that revenue and EBITDA in the second half of 2020 will be in line with the first half of 2020.
In these unprecedented times, our diversified revenue portfolio offers strength and resilience, while we put the well-being and safety of our employees and customers first at all times.
Press release
H1 2020 results ICT Group
Press release - H1 2020 results ICT Group