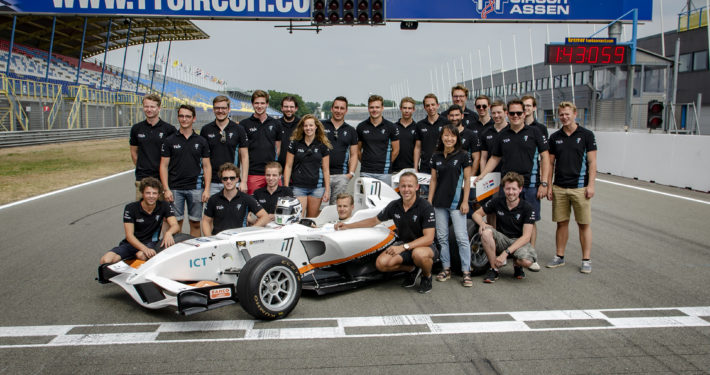 News
A new lap record for InMotion at Ciruit Assen
Last Saturday, July 21st, the InMotion student team broke the electric lap record at the TT Circuit Assen. After Circuit Zandvoort and Circuit Zolder, this time the IM/e was also the fastest electric car on the track.
During Experience Electric Day, the IM/e entered the track. After 1: 43: 059, he passed the finish line and the electric track record at TT Circuit Assen was broken. With better suspension and aerodynamics, the IM/e is an even bigger speed demon than before!
Previous successful record attempts
It was not the first time that InMotion has successfully attempted a record attempt. In June 2017 she broke the previous record at Circuit Zandvoort with no less than 16 seconds. Only one month later, in July 2017, the IM/e became the fastest electric car at Circuit Zolder. With no less than 19 seconds the previous record was broken!
Partnership ICT and InMotion
InMotion is an automotive race team that consists of students of Eindhoven University of Technology and Fontys University of Applied Sciences. InMotion aims to participate in the 24h race of Le Mans in 2023 with their IM01 race car. Together ICT and InMotion developed the Electronic Control Units (ECU's) for the complete IM/e race car. ICT provides its Model based development Production Platform: Motar, consisting of the ECU's hardware and platform software, while InMotion develops the control algorithms (application software) for these ECU's.