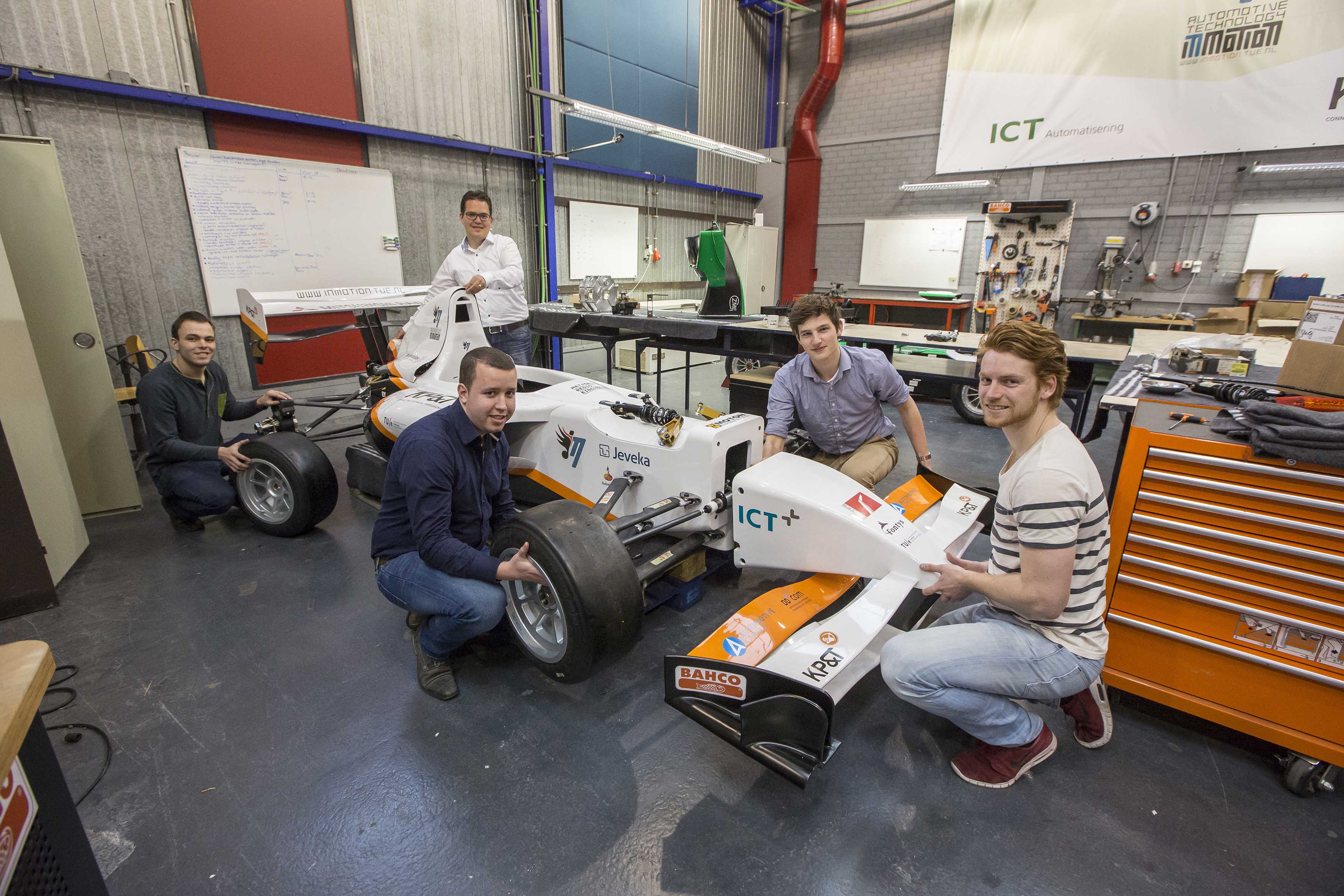 Project
Completing the 24h of Le Mans in the innovative Garage 56 class, a world's first!
25 September 2015

3 minutes
Racing a hybrid prototype vehicle, faster and more efficiently than a modern Formula 1 car. That's the challenge for student race team InMotion. The team aims to compete in the Le Mans 24 hour race in a few years' time. Johan van Uden is software engineer at ICT Group and is one of the founders of InMotion. In this blog he tells about InMotion's 'Road to Le Mans' and about the vital contribution of ICT Group.
The 24h of Le Mans is the most demanding race in the world which pushes both drivers and cars to the limit. This race is all about endurance, which car can cover most laps in 24 hours. To achieve this, it is vital that the cars spend as little time stationary as possible. Therefore, the vehicle must be as reliable and energy-efficient as possible. It is not without reason Le Mans is often called the 'Grand Prix of Endurance and Efficiency'.
 IM01
Cars at Le Mans compete in different classes, including "Garage 56". This is a special class for innovative cars with just one single spot on the grid every year. In a few years' time we will compete in this class with a hybrid race car that we have developed ourselves entirely: the IM01. With the IM01, InMotion aims to be the first team to complete the full 24-hour race in this category. We will do this with a car that is both quicker and more efficient than any current Formula 1 car on the grid.
Reliable ECUs
We will build the IM01 with the experience acquired through the development of our test car: the KP&T IM/e. This in-house developed full-electric formula car will be used as a test platform for the IM01's systems and technologies. Active aerodynamics (a real-time adjustable rear wing) and the electric drivetrain are currently being put to the test. The entire car is controlled by a few "boxes" containing advanced hard- and software: Electronic Control Units. These ECUs are the brains of the car.
The development of the ECUs for the KP&T IM/e is an enormous challenge. Firstly because there are 'only' three of them present in the car; the average passenger car has over a hundred ECU's on-board to control every aspect of the vehicle. Why does the KP&T IM/e only feature three, one might ask himself? Reason: The fewer ECUs, the smaller the likelihood of technical problems during system integration. Extra challenging is the fact that these ECUs must continue to operate under very harsh conditions – 24 hours at full capacity. With battery packs that can supply 800 volts and 300 amperes the risk of fire or electrocution must be prevented regardless of any costs.
Motar toolbox vital
The software for the ECUs is normally coded manually based on mathematical control models. These calculations represented in a graphical way control the adjustment of electronic components such as traction control (for optimal grip) and active aerodynamics. At ICT we are able to develop the software for the ECUs using our Motar toolbox. Using this platform we can translate the graphical control models into software fully automatically – thus without the need for any manual coding or integration. This speeds up the development process of the vehicle, while reducing the likelihood of programming errors compared to hand-coding. All this increases the reliability of the ECUs. The ECU development has been a great test-case for both InMotion and ICT: Using Motar for the KP&T IM/e, we have demonstrated Motar's added value in practice!
Testing with the KP&T IM/e
This year we will test the KP&T IM/e at Circuit Park Zandvoort. At the same time we will also have a go at beating the electric lap record. Our team, mainly students from Eindhoven University of Technology and Fontys Hogescholen, is currently preparing the car for these test sessions. We do this voluntarily as InMotion exists thanks to the support of a number of big sponsors, donations and technological partners. It's wonderful to see how everyone is spending his or her spare evenings, nights and weekends on the project. I myself can be found at the Automotive Campus in Helmond every Wednesday evening.
At this moment the three ECUs are ready and are now being tested in preparation for the record attempt at Circuit Park Zandvoort. If this test is successful, we plan to make an attempt at beating the electric lap record around the Nürburgring Nordschleife later this year. After all this we should have gained sufficient knowledge and experience to start the production of the IM01. All this helps in realizing to our dream of competing at the 24 hours of Le Mans.
Want to hear the latest news on the InMotion project? register here for the newsletter or follow us on Facebook Facebook, Twitter and LinkedIn. You can find more information on the Motar toolbox here.
Download the article which appeared in Bits & Chips (may 2016) 'Becoming the first to complete Le Mans in a hybrid'.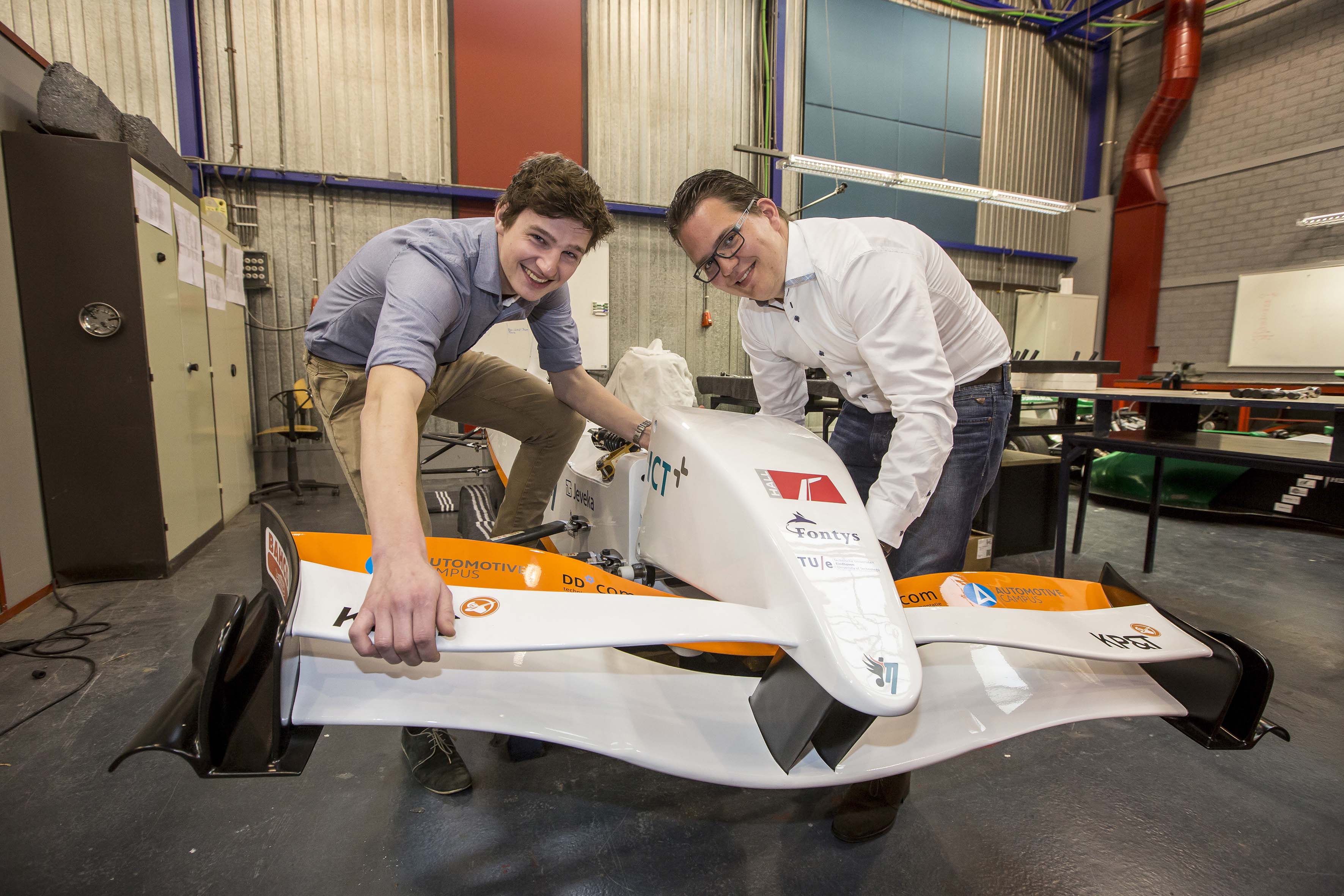 Motar-toolbox cruciaal
De software voor de ECU's wordt normaal gesproken handmatig gecodeerd op basis van regelmodellen. Deze grafisch weergegeven berekeningen regelen de aansturing van elektronische onderdelen zoals traction control (voor optimale grip) en actieve aerodynamica. Op mijn initiatief hebben we de software voor de ECU's ontwikkeld met behulp van de Motar-toolbox van ICT Group. Met dit platform kunnen we regelmodellen automatisch – dus zonder handmatig coderen – vertalen naar software. Dit versnelt het programmeerproces en verkleint de kans op programmeerfouten. En dat vergroot de betrouwbaarheid van de ECU's. De ECU-ontwikkeling was een mooie testcase voor InMotion maar ook voor ICT: hierdoor hebben we de meerwaarde van Motar in de praktijk aangetoond!
Testen met de KP&T IM/e
Dit jaar gaan we de KP&T IM/e testen op CircuitPark Zandvoort. 'En passant' vallen we daar ook het elektrisch ronderecord aan. Ons team, voornamelijk studenten van de TU/e en Fontys Hogescholen, bereidt de auto momenteel voor op deze test. We doen dat vrijwillig want InMotion bestaat bij de gratie van enkele grote sponsoren, donaties en technologische partners. Het is prachtig om te zien hoe iedereen zijn vrije avonden, nachten en weekenden aan het project opoffert. Zelf ben ik elke woensdagavond op de Automotive Campus in Helmond.
Op dit moment zijn de drie ECU's klaar en worden ze volop getest in voorbereiding op de recordpoging in Zandvoort. Als die test succesvol verloopt, hopen we later dit jaar het elektrische ronderecord op het Duitse racecircuit Nürburgring Nordschleife aan te vallen. Na deze twee 'horden' zouden we dan voldoende kennis moeten hebben om te starten met de ontwikkeling van de IM01. Daarmee komt de finishvlag van Le Mans stap voor stap in zicht.
Wil je op de hoogte blijven van het InMotion-project? Schrijf je hier in voor de nieuwsbrief of volg de verrichtingen op Facebook, Twitter en LinkedIn. Meer informatie over de Motar-toolbox vind je hier.
Download ook het artikel wat verscheen in Bits&Chips (mei 2016) 'Becoming the first to complete Le Mans in a hybrid'.
Watch the video of the inmotion team below!