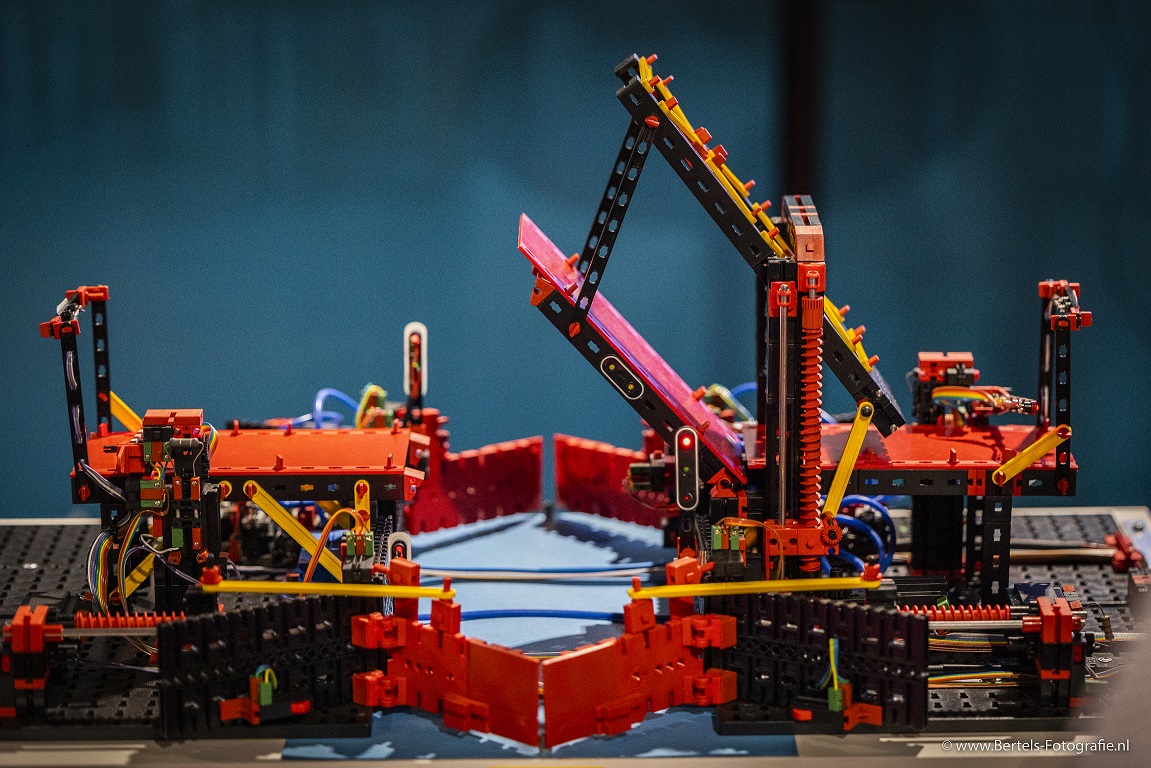 Solution
Physical Twin. Complex assets off-site intensive testing
Minimises operational downtime of assets
Reality at scale
Many assets can only stay out of service for a short time in order to avoid jeopardising operations. Think of a machine for processing food that has a limited shelf life, or a bridge or tunnel. In those situations, extensive on-site test procedures along with the related downtime are not an option. We use Physical Twin to fully rebuild an asset to scale and integrate the control system with the electrical system. This allows us to intensively test various scenarios off-site, detect any errors in a timely manner and minimise disruption.
Testing for wrong behaviour produces good behaviour
An important aspect is that we can also simulate undesired behaviour: a bridge that stops halfway or the gates of a lock that are not closing. The Physical Twin runs through scenarios and visualises the behaviour of the entire chain and all processes, control features and electrical engineering, without burdening the object itself. Managers and owners who are responsible for the availability, safety and sustainability of vital assets demand short on-site integration, problem-free commissioning and marginal failure costs in their renovation, replacement or new construction projects. Physical Twin is a complete testing approach that provides all parties involved with insight, peace of mind and confidence.
Physical Twin, Digital Twin and HoloNXT
In order to minimise an asset's availability, we simulate it with a Digital Twin. However, this means that the software environment does not include the 3D experience in which the asset functions. We resolve this by adding the HoloLens and our HoloNXT platform, which visualises the situation. As a result, you have the experience as if you were really opening a bridge from a control room at the push of a button, for example. Digital Twin and HoloLens, used independently or in combination with Physical Twin, allows us to test the software at an early stage, thus increasing quality and reducing development time.
Our distinctive features
40 years of knowledge of operational environment vital infrastructure and industry

Robust software architecture

Basic control software for flying start project

Minimal on-site downtime and disruption to users

Integrated approach to large-scale renovation tasks

Complies with the national standard Rijkswaterstaat (Department of Transport and Water Management).
Do you want to work on Physical Twin

?
Working at Physical Twin requires you to have expertise, inventiveness and a goal-oriented attitude. As a member of our team of data and software specialists, you will contribute directly to the success of our clients.
The vacancies are only available in Dutch.