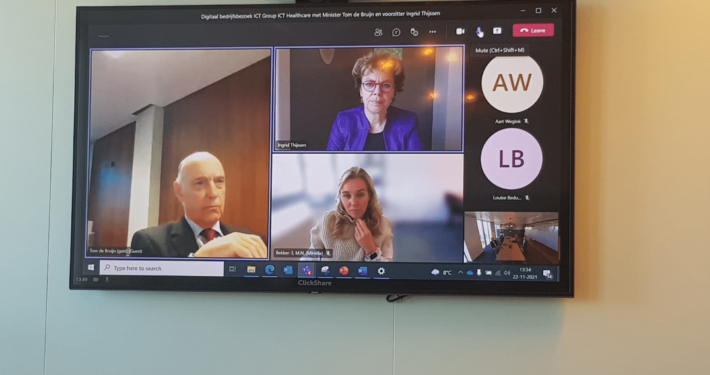 News
The Minister and President of VNO-NCW visited ICT Group
ICT HCTS
On Monday, November 22, Minister of Foreign Trade and Development Cooperation Tom de Bruijn and Ingrid Thijssen, President of VNO-NCW, paid us a virtual visit. Also present was Prof. Mireille Bekker, professor of obstetrics and gynecologist at UMC Utrecht. The main topics of discussion during this meeting were digitization and home monitoring in healthcare.
Technology allows the healthcare provider to create the ideal care pathway for the patient, and home monitoring is an excellent example of how this service offers pregnant women the benefit of the medical expertise of a physician consultant without the hassle of a trip to the hospital-or, in some cases, an overnight stay there. According to Bekker, patients are very satisfied with this form of care.
During the visit, there was a demonstration of the home monitoring device for pregnant women by ICT Healthcare. We also shared our experience and points of interest when it comes to doing business in Germany and other European countries.
Meer weten?
Neem contact op met Marco van Elst.