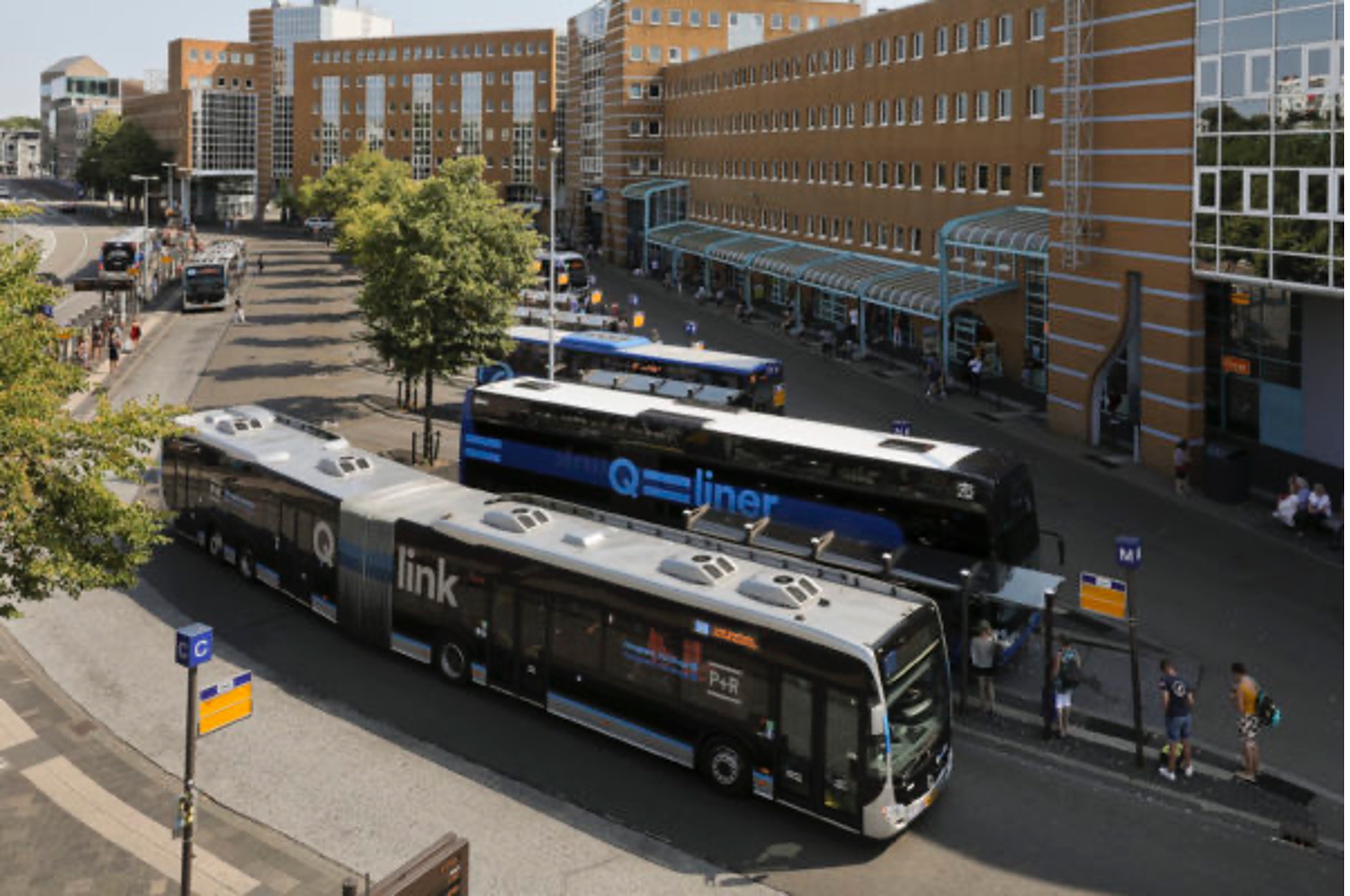 Inner cities are getting congested and are becoming unliveable due to noise and odour nuisance. In addition, carbon dioxide and particulate emission must be reduced. The only way to face these challenges is to get people to leave their car and start using public transport. This will only work if public transport is just as convenient and reliable as the car so that travellers don't experience any uncertainties during their travels. Mobility-as-a-Service (MaaS) plays a crucial role in this transition.
The issue is crystal clear for bus transport company Qbuzz. The company has been awarded the contract for bus transport in the Groningen and Drenthe regions for the next ten years. Part of the tender is the provision of MaaS services. To this end Qbuzz signed a contract with ICT Group for providing the Mobility-as-a-Service (MaaS) platform TURNN in the Groningen-Drenthe region. "MaaS is part of a changing pattern in mobility requirements", says Gerrit Spijksma, Qbuzz's General Manager. "We have always been an innovative company, so it's only natural that we want to play a leading role in this innovation".
Intermodal travelling, planning and tracking
TURNN, which is an independent MaaS platform, combines all available modes of transport into an optimum travel plan, aligned with the traveller's personal circumstances. It allows not only Qbuzz travellers, but all travellers to plan their entire journey from door to door and track their trip using the intermodal TURNN app. The app uses the desired arrival time to calculate which combination of modes of transport – (shared) bicycle, (shared) car, bus, train, tram, taxi – reaches the destination in the fastest manner and at the lowest cost, and also the time you need to leave home in order to arrive on time. What's more, TURNN accompanies you on your journey and sends you messages if any connection is delayed. If this means that you won't arrive on time, the app proposes a different mode of transport – for instance a taxi, instead of public transport or a (shared) bicycle – for the last section of the journey. Qbuzz wishes to enter into a long-term partnership with ICT Group, and during this partnership, both parties will gradually add more functionality to the TURNN app. Work on the first addition has already started, and this entails the expansion of the travel planner with an intermodal booking platform. A further plan is to enable payments by means of the app.
"We have always been an innovative company, so it's only natural that we want to play a leading role in this innovation"
– Gerrit Spijksma, General Manager Qbuzz
TURNN as leading platform
The objective of Qbuzz is to combine forces. "You can't get anything moving unless you do something", says Gerrit Spijksma. He doesn't want to wait for government policy but is taking the lead himself. "We have opted for the best independent MaaS platform currently available in the Netherlands. We want to show the enormously positive impact of MaaS for the traveller and for public transport service providers."
Accelerate MaaS developments
Taking the lead implies a risk for Qbuzz, but this does not bother Spijksma. "Innovating means taking risks. Our industry has been talking about MaaS for years, but the developments are very slow because of the large number of opposing forces in the world of public transport. Our mission is to combine forces and thus create a natural and ground-breaking movement. We're going to use the Groningen and Drenthe region to show that it actually works, and we hope that after seeing this example, others will also choose the TURNN platform." The Groningen-Drenthe region is extremely well suited for this showcase because it comprises the complete range of dynamics: from a large town with a large number of public transport movements to smaller villages that haven't had any bus services for years. "If MaaS is successful in this region, it will be a success everywhere", says Spijksma with conviction.
Expansion with booking and payments
Dirk Grevink, Managing Director at TURNN: "ICT Group knows the mobility market better than anyone else." He is very happy with the contract. "We have been working together with Qbuzz for a number of years. Both parties are convinced that the way people travel is going to change during the next couple of years, and that MaaS will become a real alternative for travelling by private transport. A crucial factor in this transition is a high quality level of service that connects all links of the chain (bus, train, (shared) car, (shared) bicycle and taxi), and that fully supports the journey. Everyone at TURNN is fully committed to this belief."
More information about this project?
Contact us!