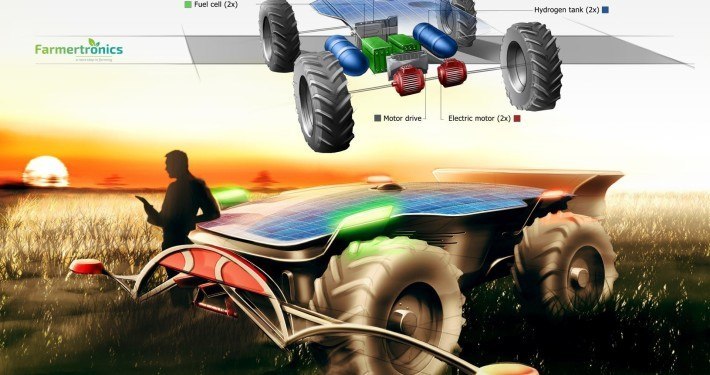 News
ICT and Farmertronics announce partnership
Today ICT (ICT) and Farmertronics BV in Deurne announce a partnership.
Farmertronics is developing an advanced unmanned clean tech tractor for the agriculture market. This tractor will run on hydrogen produced locally at the clean tech farm from solar and wind energy. With this development Farmertronics wants to make a next step in smart and sustainable farming. Together ICT and Farmertronics will develop the Electronic Control Units (ECU's) to control the unmanned clean tech tractor.
ICT provides its Model based development Production Platform: Motar, consisting of the ECU's hardware and platform software, while Farmertronics develops the control algorithms (application software) for these ECU's.
Thieu Berkers, oprichter en CTO bij Farmertronics: "Several years ago I was really successful with the development of a revolutionary distributed real time control system in close cooperation with a group of software engineers hired from ICT. Now, many years later, it seemed to me that ICT evolved as a company from software house to a one-stop shop taking the full responsibility from model based design to code generation and hardware development. This resulted in the Motar-platform fitting perfectly within the strategy of Farmertronics to develop an advanced unmanned clean tech tractor based on industry standards. After many years our partnership seemed to be sustainable and I'm convinced that both Farmertronics and ICT share the same drive to make this ambitious project again to a worldwide success."
Eeuwke Wielinga, Business Unit Manager ICT Automotive & Mobility: "We are pleased to contribute to the goal of Farmertronics to develop an advanced unmanned clean tech tractor. Both Farmertronics and ICT share the passionate drive of technological innovation and the desire to apply groundbreaking technology at agriculture vehicles. Being at the forefront of many of the latest developments, we successfully developed the Motar-platform for the automotive industry and this is our first cross-over to the agriculture industry. ICT's Motar-platform consists of both the software and hardware. The platform offers seamless integration of MATLAB / Simulink control algorithms on production class automotive hardware built up on an AUTOSAR architecture. As such it forms an excellent basis for automotive control development on various HW platforms."
More information: